Raj Sureja, MD discusses imaging with a patient
Raj N. Sureja, MD
Interventional Pain Management Specialist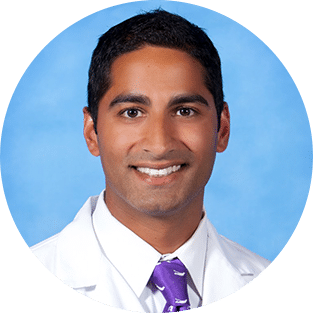 Dr. Raj Sureja joined OSC in 2008 as a board-certified, fellowship-trained Interventional Pain Management Doctor. His practice is focused on pain reduction of the spine and spine-related disorders through minimally-invasive interventional procedures. Dr. Sureja enjoys being a pain management specialist because he feels tremendous personal and professional satisfaction in being able to help people feel better. Dr. Sureja has been named a "Top Doc" in Pain Medicine every year since 2012 by Coastal Virginia Magazine, chosen by his peers in the medical community.
His favorite therapies to perform are vertebroplasty, kyphoplasty and spinal cord stimulation because patients typically see results immediately and they can be done in-office at OSC. In fact, Dr. Sureja was the first physician in the Hampton Roads region of Virginia to perform an in-office vertebroplasty and one of two to perform in-office kyphoplasty. Dr. Sureja has an excellent rate of success with his patients who are treated with spinal cord stimulation. He firmly believes that this orthopedic technology works for the great benefit of the patient.
With these therapies, Dr. Sureja sees amazing improvements in quality of life for patients young and old, and several of our patients have returned to high level physical activity such as running, competitive swimming, and horseback riding.
In addition to his medical commitments, Dr. Sureja leads a busy personal life. He is married to his medical school sweetheart, who is a practicing Radiologist, specializing in Women's Breast Health. He is the proud father of twins, Vivienne and Gabriel, and younger daughter named Adeline. When he's not spending time with his family, Dr. Sureja is an avid golfer, triathlete and runner. He is an age-group winner of many 5k and 10k races. Dr. Sureja is also a huge Baltimore Ravens and Orioles fan, and enjoys playing cornhole, pickup basketball, and bocce.